Second day – Romania.
This six-day voyage on the Orient Express is really three nights on the train. And a couple of days on the ground. For showering, refueling, and such. The train has no showers – so "modern" conveniences are built into the trip. Five-star, mind you.
Our first such break is in Bucharest. Not really time nor prep on my part to explore much. Mostly tours with native Romanians "Bucharesters"? "Bucharoos"??
When we disembarked at the Gara du Nord – of course we didn't have to deal with our own luggage – our stewards and train staff took care of that – we walked through a small phalanx (if that's a proper adjective to even go with phalanx – can it come in sizes – goodness, would you stop already with the digression?!?).
Anyway…six people in native costume greeted us. They were holding trays of braided bread. Many passengers ignored the offering. (We had just lunched onboard) but, goodness, that felt culturally rude. When in Romania… I pulled off a little piece and dipped it in a small cup of salt in the middle of the ring of bread.
We gathered with one of various tour guides who identified themselves with VSOE paddles and the language they would conduct the tour in. Choices were Japanese, German, Spanish and English. I probably left one out. I think the three elegant looking Swedish couples were stuck with English.
Loved our guide's shoes.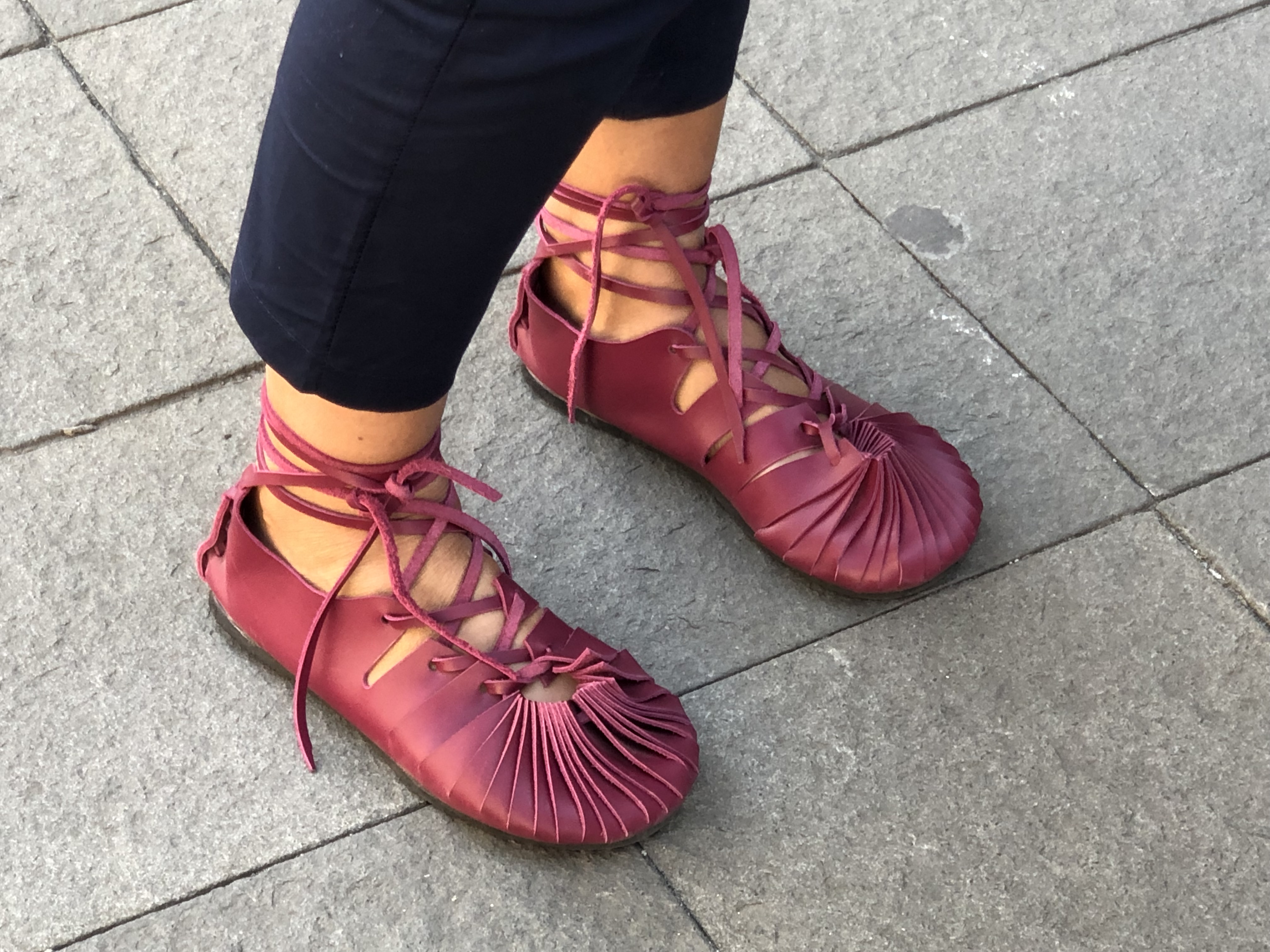 We drove to the old town, disembarked the bus, stumbled over cobblestones, and saw a couple of ruins, and a few spots dedicated to Vlad the Impaler.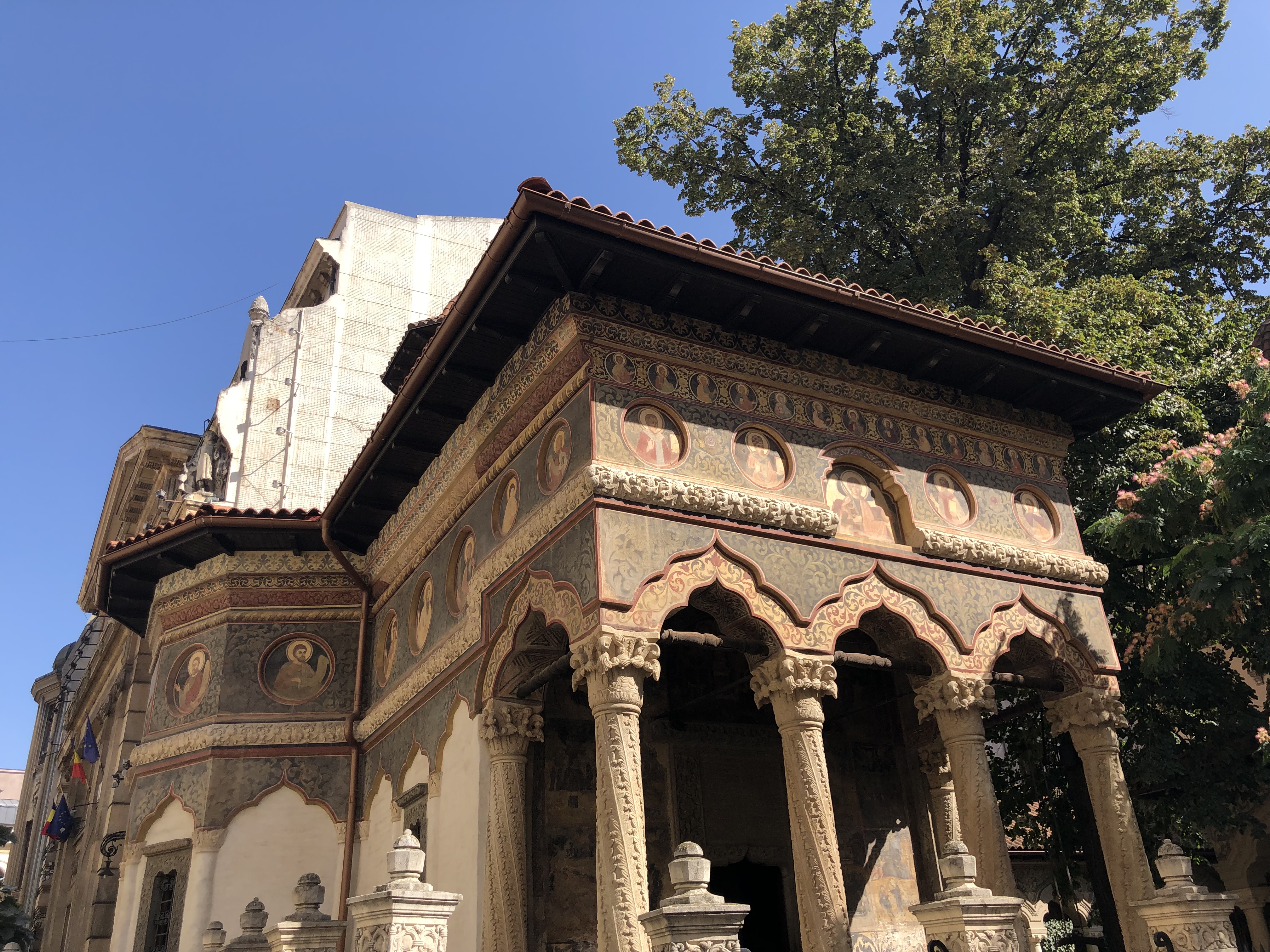 Most interesting to me were the churches. One of the passengers purchased candles – tapers – to light. There was a long metal cupboard in the courtyard. You opened the door, lit your candle, and placed it in a small hole on the floor of the cupboard that was swimming in melted wax.
The churches seemed the most authentic part of the tour – past some kinda dingy looking cafes.
At another church, we witnessed two weddings. One in progress, one waiting to commence. Guide told us most weddings happen on the weekends. So, it isn't unusual to have them stacked up for takeoff. As long as the brides honor the superstition of not looking into the eyes of another bride.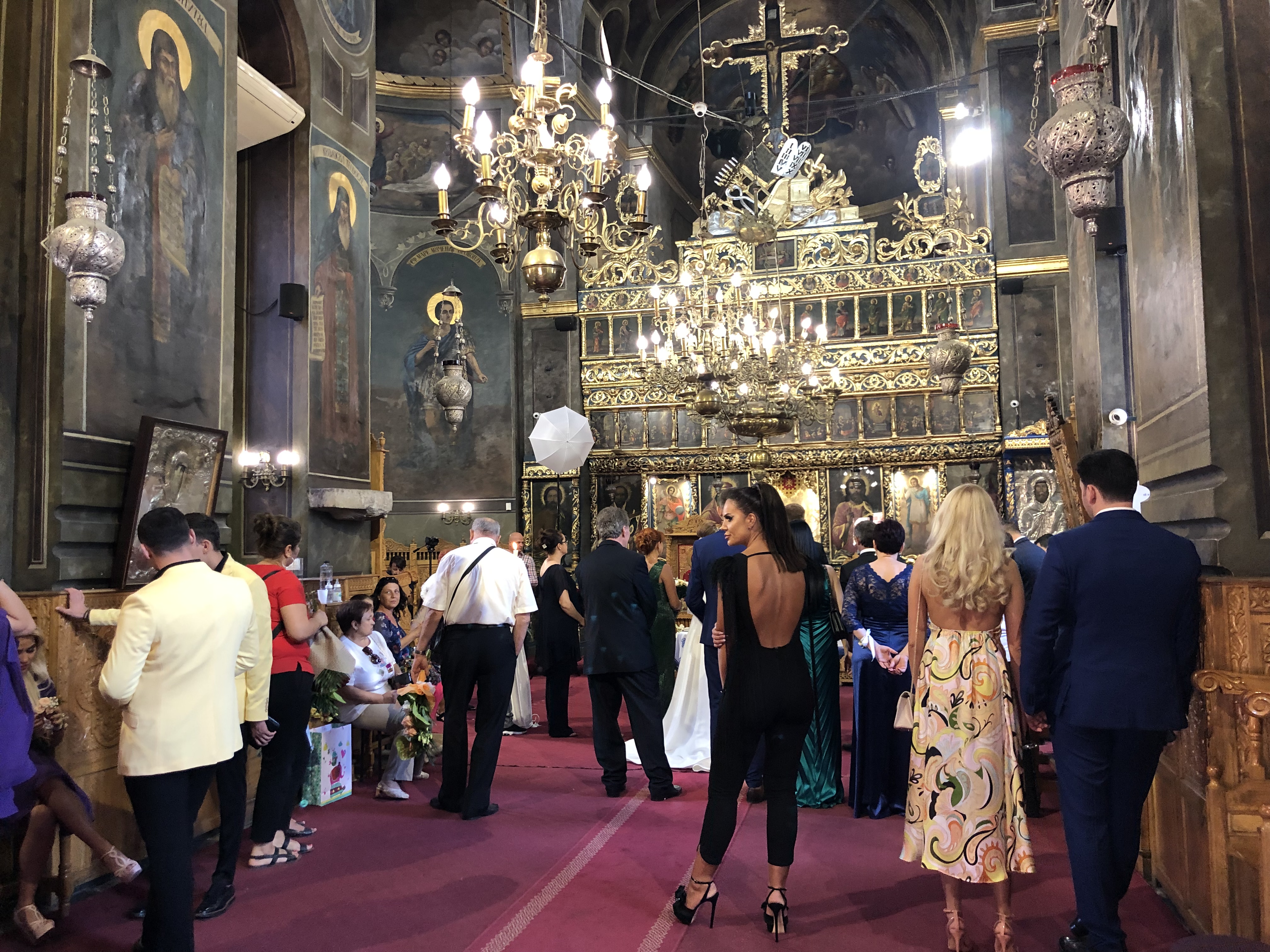 We were allowed to go inside the church and witness the wedding in progress inside this one small church. The couple have "godparents" for their ceremony. Think best man/bridesmaid. Though they must be, by custom, a married couple who will be the voice of counsel for the bride and groom. Small group witnessing the ceremony. Standing. And milling about. And then it was over.
That night we were served dinner in the corner Royal Palace – now an art museum.
More on that event on Janet Eats.