Visiting the cugini in Bologna, I had two missions: to enjoy the company of family, and to get my very own Signora Maria!
My first exposure to Signora Maria was through my Italo-Americana cugina Carla in California. It is her brother Paul I am visiting in Bologna – where he lives with his Italian wife and two bilingual daughters.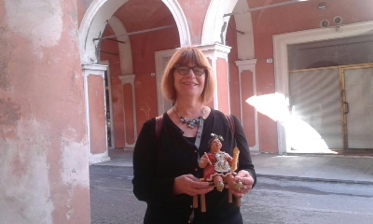 Carla owns three Signora Maria's. All different. All charming. I simply had to have one of my own. So, on this 2015 viaggio in Italia I was a girl on a mission. The plan was made – a visit to Anna's show (una mostra) in Centro Bagnocavallo to see many variations of Signora Maria. Her matrimonio to her new boyfriend, now husband, Felice: dressed in their wedding finery. Felice and Maria facing one another on a bicicletta, the piece was called Un Bes (colloquial for un bacio: a kiss).
Signora Maria in "costume" as Venus. A mermaid. Even as Madonna and child.
I immediately spotted MY Signora Maria. With a giant garganelli (typical pasta of the Emilia-Romagna region) in one hand and the small rod to make the pasta in the other. She sits atop the sheet of pasta itself, perched on a little wooden table. The table built by the artist's father who is a furniture maker.
After some language confusion, I walked out of the mostra with my very own Signora Maria.
And then: lunch!
Our little group headed out to the country just a few miles from the center of Bagnacavallo. Anna lives there with her husband Massimo and daughter Martina. We park, enter a small wooden gate, walk on a mosaic path made of pebbles and stones then enter the home. There are two main rooms upon entry: Anna's laboratoria and a grand kitchen. The cucina was redolent of onions and garlic and olive oil.
You just gotta visualize this scene. From the picturesque path to a quintessential Italian country kitchen. Anna's mother Pia and husband Massimo are making ravioli di zucca by hand. Rolling little balls of pumpkin mixture (pumpkin, bread, salt), placing the ball in the middle of a square of hand-rolled stinging nettle pasta. In one swift moment, ball in middle, fold in half, press around with the tines of a fork – then place on a sheet pan.
All with Puccini playing in the background. I almost wept!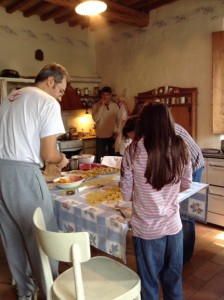 When we walked in carrying Signora Maria holding her giant garganelli, hellos were made and the family was inspired. They brought out a little gizmo and a stick and started making hand-rolled garganelli out of egg pasta. Pia demonstrated. I tried to make them myself. And within minutes, we were all busy making pastas: including a small folded pasta without filing called cappelletti finti (fake cappelletti).
It was a precious Italian moment capped with one of the best meals I've ever had. A Saturday afternoon brunch featuring the handmade pastas we had just created.
Molto carino
. Very sweet.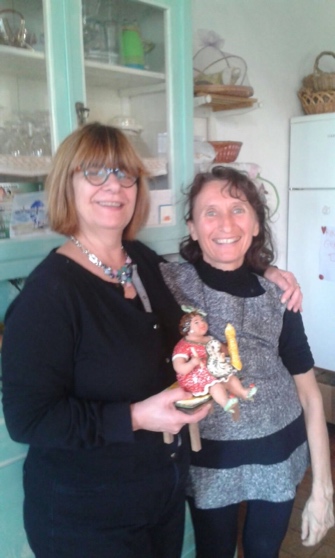 All thanks to Anna and her Signora Maria.
Edited with BlogPad Pro